Swimming from Bregenz to Constance (29 miles) doing Front Crawl
15 August 2004

Daniel has done intensive training for this event since February (500 miles of crawling)




The "lake-swimming" on 31 July 2004 accross the Lake of Constance from Uttwil (Switzerland) to our hometown Immenstaad (5 miles distance) had already the sub-title "Warm up for Bregenz Constannce" - and our son Daniel made that actually true: He has crawled the longest possible distance from Bregenz to Constance, 29 miles, "possibly setting a new record" (quotation from the Swabian newspaper) in 13 hours and 45 minutes.

Great that you really made it, Daniel !!!

In recognition of your great performance I forward this event here in the Internet to the world outside of Germany. The prehistory and your motivation are in detail described in the newspaper articles, therefore I mainly document the sequents of events from my view on the accompaniing boat ( a speedboat of the lifeguard of the city of Wasserburg). By the way links to the newspaper articles can be found at the end of this side - however in German language as you can imagine. For us the night has already ended at 3:00 a.m. to end, for me is especially hard because I have been partying till 2:15 a.m. At 3:30 a.m. we take off from Immenstaad by car to the harbour of Wasserburg, where the boat is already been waiting for us.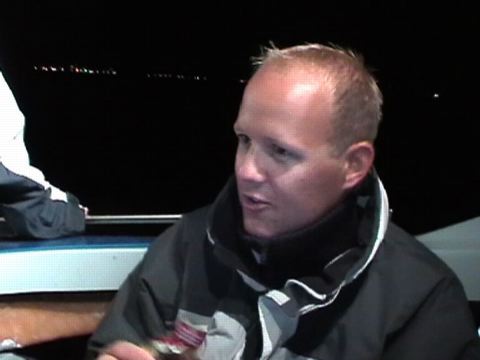 _

4:30 a.m. the main person: Our son Daniel from Immenstaad. Here suring the passage from Wasserburg to Bregenz on the boat. Because of bad weather Daniel had already delayed his project for one day, but today (15 August) it also does not look very nice: It is raining and very cold.



The challenge: On the large map the milestones for all planned milestones are registered. The plan is to record the actual time at these milestones.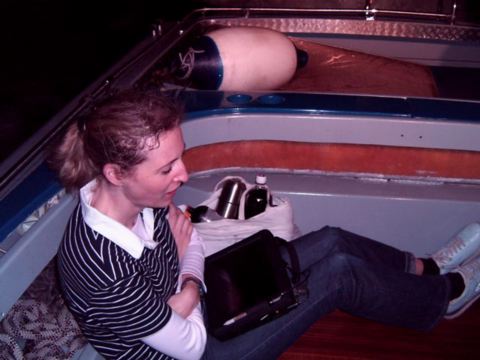 _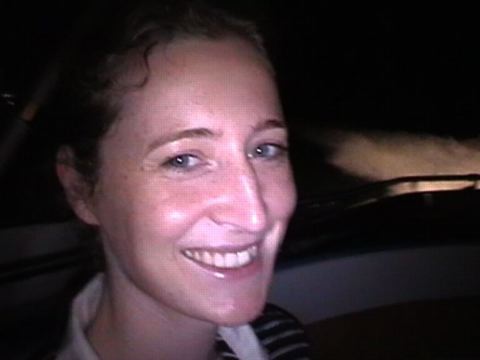 The 2nd main person: Isabel, Daniels wife and helper - she provides beverages and food for Daniel - and sweets for us!


_


A very useful aid: The screen of our Navigation sytem (screen shot of the passage Wasserburg Bregenz), the small red triangle marks our position. My company, the EADS Germany (European Aeronautics Defence and Space Company, formerly Dornier) provided this GPS based system which computed our position exactly (3-5meters) on an outdoor Tablet PC with digital map. This so called AVLS system (Automated Vehicle location system) has been in use for example by the Police in Abu Dhabi and Al Ain in the United Arab Emirates. There, of course, the system is not plotting positions of swimmers but instead of all Police Cars.

Thanks also to my two colleagues Stephan Rennert and Christian Steffen-Stiehl, who had prepared the equipment for us.




5:21 a.m.in the port of Bregenz: Looking at the faces you can see the pressure on us.



The following dialogue chracterizes the situation:
Daniel to Caroline: "Please get the swim glasses wet"
(Caro takes the swim glasses)
Caroline: "Are the glasses able to swim?"
Daniel: "Of course not!"
Caroline: "Oh shi......, how deep is the water?" --
- silence!!!! Everyone is shocked.
Daniel: "Ok folks, lets get my spare glasses!"
-- ok, here we go now!!!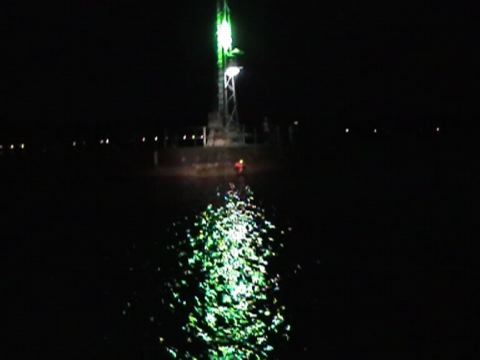 _

5:30 a.m.: Take of at the pier. The handheld GPS displays 46.1 kilometers as expected (29 miles). Target is is programmed to the on the right side of the Rhine bridge in in Constance. The stop watch is runing. From now on we only heard the regular sound of crawling Daniel, it is so dark that one can only recognize his hands, when they are outside of the water.



6:15 a.m.: It is still raining (the bright points in front are raindrops hit by the camera´s flash) - slowly dawn is coming



6:59 a.m.: Daniel is already passing Lindau.

Now it is about time, to introduce our friends form the Life Guard Wasserburg . Daniel had sent emails to the various life guard organizations at the lake, Life Guard Wasserburg immediately responded and told us, they were ready to accompany us.



On the left rescue swimmer "Caro" (Carolin Maurer), on the right boat driver and rescue swimmer Sabine Kasper.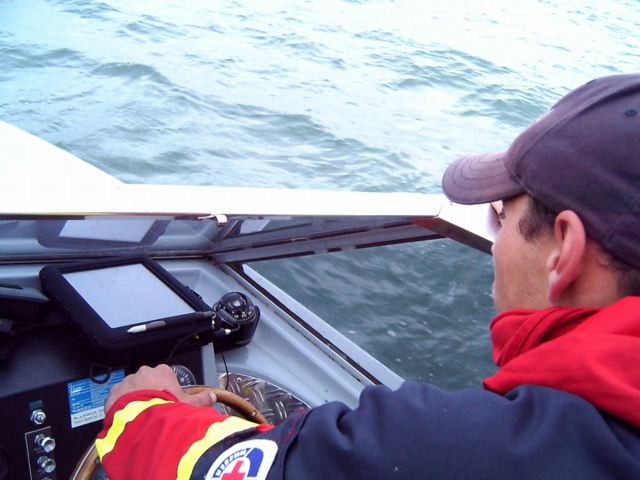 Boat driver and rescue diver "Basti" (Sebastian Schurig). This team has been unbelievably great, we never had a boring minute and this probably also had a positive effect on Daniels motivation.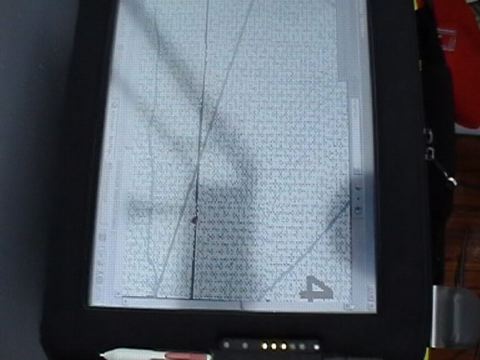 Unexpectedly difficult: keeping the boat accurately tstraight ahead during slow drive with gusty winds and heavy waves. The navigation system shows mercilessly each small deviation from the direct line. Since there are no disturbing obstacles on the lake we are constantly having contact to at least 8 satellites and therefore also a high position accuracy.


_

7,00 a.m.: For me it is fascinating, how Daniel is permanently mainatining his front crawl style with an absolute regular frequency..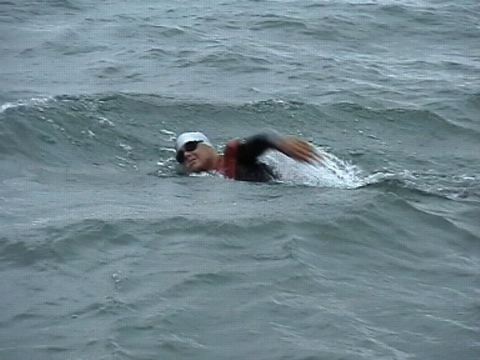 _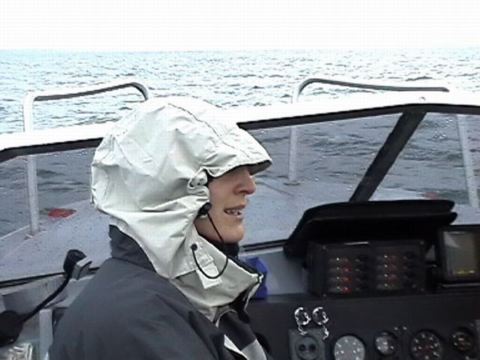 7,05 a.m.: Easy to see here: the waves are getting stronger, Isabel is wearing winter clothes

About time for a break.


Daniel plans to take a rest every 1.5 hours. The 1st rest after 1 h 10 min Daniel already swam the distance, for which 1.5 Std are planned - 3 miles (5 km). We indicated with fingers up every full kilometer to Daniel, he regularly took his rest about every 3 miles just for eating and drinking. However his actual times are permanently better than the planned times - unbelievable.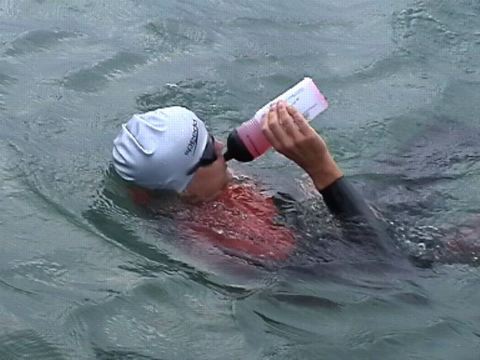 _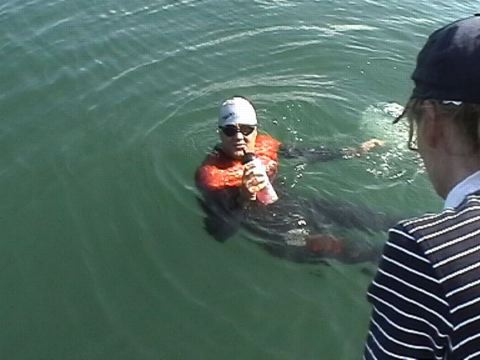 _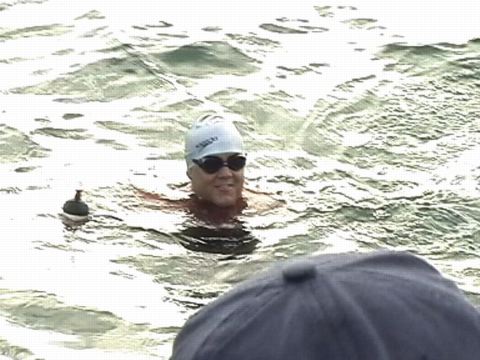 10,30 a.m.: Here are a few impressions from one of the rests: Firstly drinking a lot. The bottle contained a special carbohydrate food for Triathlon, which has been dissolved as powder in tap water. Fixed food is so called "Powergel", which nearly looks like astronaut food: A tube with carbohydrate gel. Daniel never holds tight on to the boat and duration of the rests is maximally 5 minutes. One sees: Daniel has now even in good mood - no wonder, the weather is turning better from minute to minute.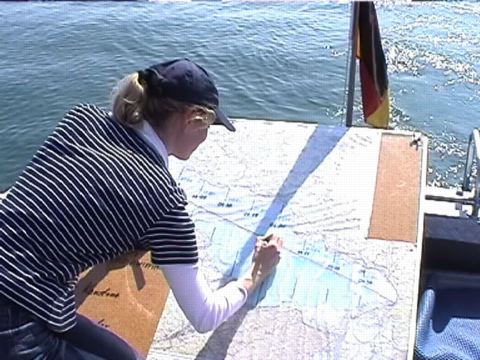 10,33 a.m.: For each break: Isabel takes a record on the map.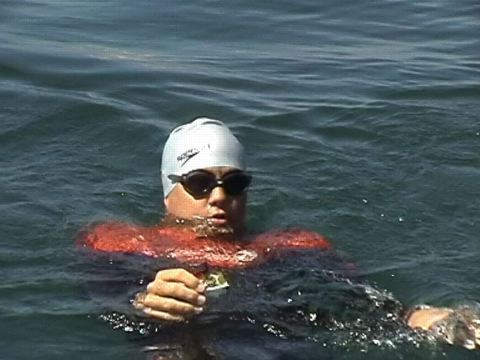 _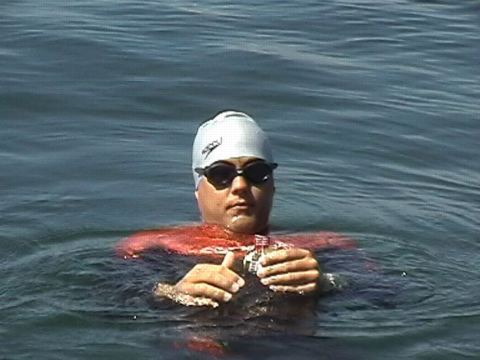 1,00 p.m.: Again time for power gel - "Tonight I am going to eat a thick Steak" says Daniel. Now Daniel must fight very hard, travel distance is already 27 km, already far more than half of the planned distance.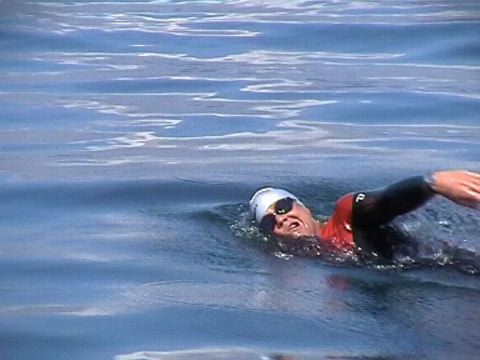 _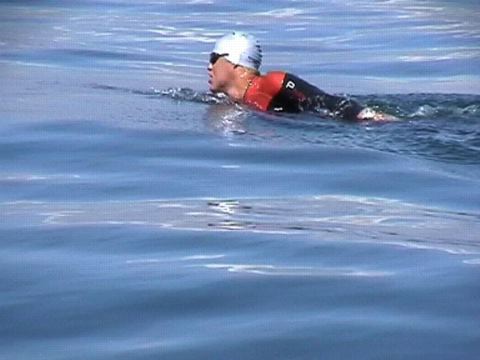 2,00 p.m.: In beautiful weather crawling is even better. The crisis one hour ago is forgotten, looking forward, well where is Constance???



_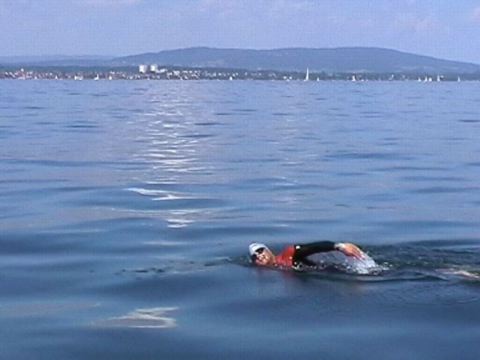 2,15 p.m.: Now we finally got the right temparatures. Daniel is already passing our home village Immenstaad.


_

2,30 p.m.: Vacation at the Lake of Constance - a fantastically beautiful day - the awful weather of this morning has been dropped from our memories.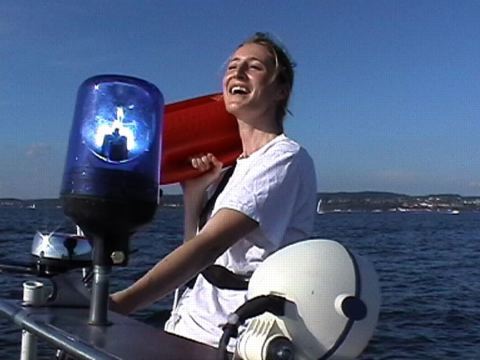 _

5,10 p.m.: The good mood rises - nothing can go wrong anymore with this Baywatch rescue girl . Isabel is getting exited obout her new role. We drive behind Daniel so he cannot see us and get "demotivated".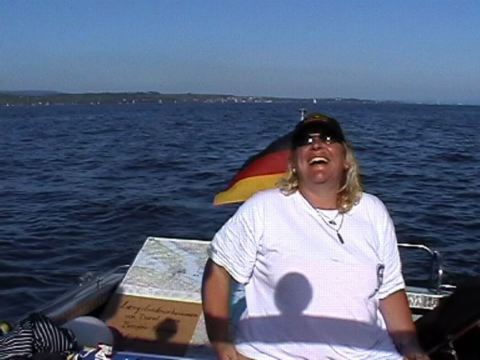 _

Sabine enjoys Isabel's Baywatch performance a lot. Now the cathedral of Constance is already recognizable using zoom.


_

6:47 p.m.: We have drifted towards north the so called "Horn" and Daniel fights against the current.

How come with such a great navigation system? Unfortunatelly I had only apower adapter for a cigarette lighter plug with me but there was no plug for it on the boat - doesn´t anybody smoke in this life guard ?? After 10 hours the batteries were flat and we had navigate by hand starting from Hagnau.

Suddenly the situation is getting critical. But our two girls jump into the water and try to motivate Daniel. After a 10 min break suddenly Daniel turns around and continues to crawl - with a speed the girls have no chance to cope with. Caro says "Oh, shi....., this guy is going an unbelievable speed!!"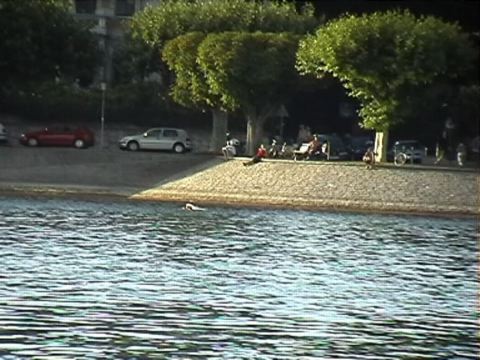 _
7.00 p.m.: Because of very flat water we cannot follow Daniel where he is going. From the distance we see, how Daniel gets closer and closer to his Finish, the bridge over the River Rhine.


_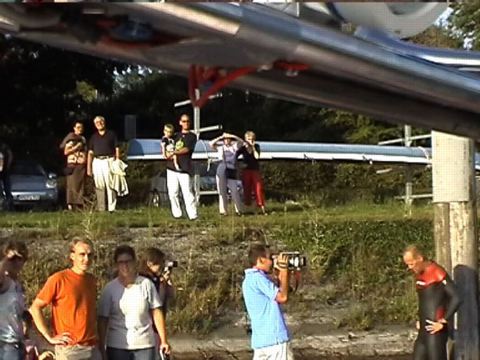 7.15 p.m.: Daniel has reached his destination after 13 hours and 45 minutes - 15 hours were initially planned. When we finally arrived at the landing stage behind the bridge Television was there already.



The winner is ....



Daniels friend Haucki surprises him with a fresh wheat beer. Daniel: "This is the best beer I ever had!!"




"Well done"



from left to right.: Daniel, Sabine, Isabel, Caro, Basti and myself



Basti is waiting already - hey folks, let´s take off for the party in Immenstaad.


_

Well, doesn´t he really look satisfied? With a short full power travel Basti ensures that Daniels ardent desire for a steak can be fulfilled soon.



After the great reception by our friends in Immestaad Daniel finally got his steak in the restaurant "Schiff" . Power gel is history now. We keep on celebrating this event with our friends and telling our stories about this eventful day.

After 3 days of massage Daniel gets back into the lake and again crawls his way iin the Lake in front of Immenstaad.

Finally we would like to thank our friends from the life guard very much - without you that would not have been possible.

I hope, the loading time of the pictures has not been too long. But I don´t like small fotos which are hardly recognizable.


Greetings from Germany to all Readers, I hope you enjoyed this article.
Bernhard (Bernie)


P.S: Please forgive me any bad expressions or misspellings - English is not my mother tongue !!!


---
These are some of the articles in our local newspapers:
---> Südkurier dated 16 Aug 20.04
---> Schwaebische Zeitung dated 16 Aug 2004

---
Menü (no Java-Script!!): [Hauptseite] [English] [Familie] [Immenstaad] [Reisen(Travel)] [Mountainbike] [Links] [Archiv] [Email]

---
Copyright ©2004 Bernhard Heinz Immenstaad