Dubai
[German Version - please klick]

Dubai is only about 120 miles from Abu Dhabi, one day trips during the weekend are worth it. Especially after 11 Sep the Abu Dhabi Airport is suffering from a lack of international flights, most flights are going thru Dubai. The flights I take are usually leaving after midnight, as a consequence it is possible to sped a nice afternoon and night at Dubai before takeoff.
The city of Dubai is dominated by the creek which stretches inside of the city for several miles. In contrary to Abu Dhabi, Dubai still has many old preserved buildings.
Below please find some fotos. Further detailed info can be found on the following links:
http://www.dubaicityguide.com/
http://www.uaetoday.com/
www.uaeresults.com
http://www.uaeinteract.com/main.html

The famous 7-star Hotel "Burj Al Arab" is situated on the coastline between Abu Djabi and Dubai. It certainly would be nice to spend a night there but with prices above 2500 $ per night I would have to look for a good "sponsor".

View from the western side of the Creek towards Deira.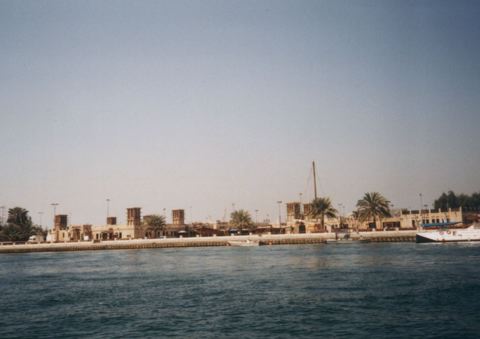 My recommendation: Boattrip on the Creek. Parking is easy near Al Seef Road, take a walk along the Creek in direction of the sea (north) until you hit an empty boat, negotiate price with driver - take off.
I cannot recommend to take one of the overcrowded tourist boats, that also does not look very safe. For appr. 30 Dirhans (10 $) you can book your own boat with driver for half an our - he will take you any place you want.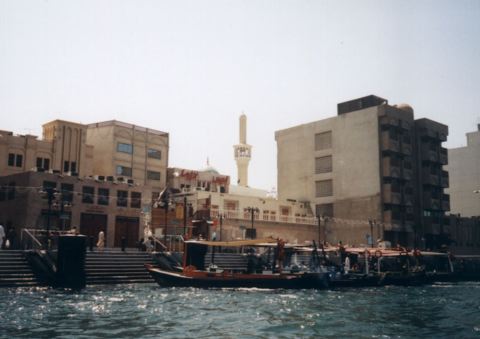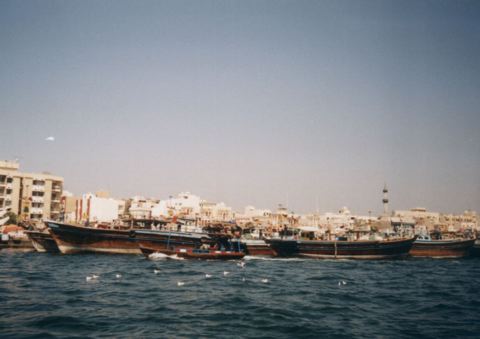 Further impressions from the Creek: View towards the old city center, the so called "Douhs" which are old looking trade boats..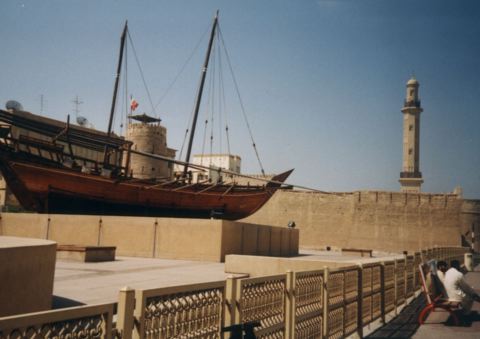 For Dubai Museum (in the old city center) you should reserve half a day minimum for a visit.
From outside it is is looking fairly small but inside and underground it is a very interesting kind of an Open Air Museum displaying the arabic culture and the live of the Beduins.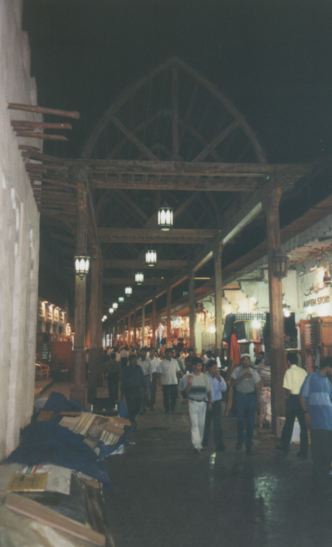 In the old Souq: The so called "Wind Towers" (left) have been the Air Conditioning of the old preindustrial times. In Dubai Museum it is demonstrated that they really work and produce cool air inside of the houses.
That´s it for today. I will keep this page up to date because some more travels to Dubai are coming soon.
---
Menü (no Java-Script!!): [Hauptseite] [English] [Familie] [Immenstaad] [Reisen(Travel)] [Mountainbike] [Links] [Archiv] [Email]
---
---

Copyright ©2001/2002 Bernhard Heinz Immenstaad