My trips to Oman in 2001
Part 2: The Grand Hyatt Hotel in Muscat
[German Version - please klick]
Our Hotel Grand Hyatt Muscat in the Embassy Area of Muscat:
Normally I don´t put commercials into my Internet pages, but this is an exception which is justified. The high number of fotos you will find below is a clear indication that I liked this Hotel very much. Actually the arabic architectonics (outside and inside), the kitchen and many more - generally the ambience.
Here are some impressions: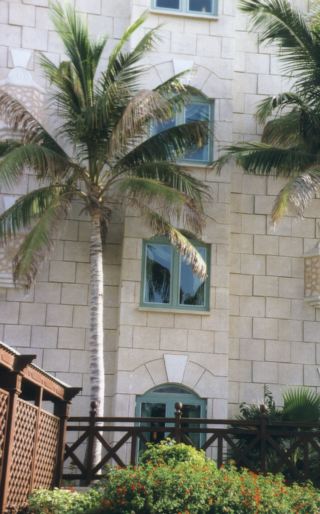 View on the facade of the lobby from the garden.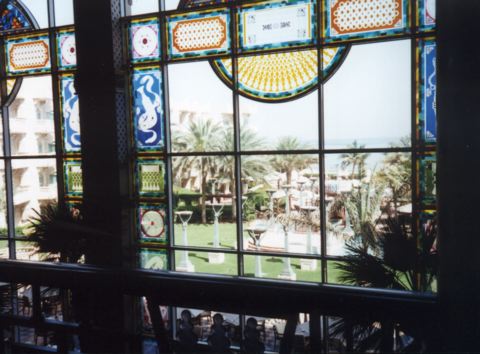 View through the windows of the facade of the lobby towards palmrees and ocean. Isn´t that pretty !!

The same view at night.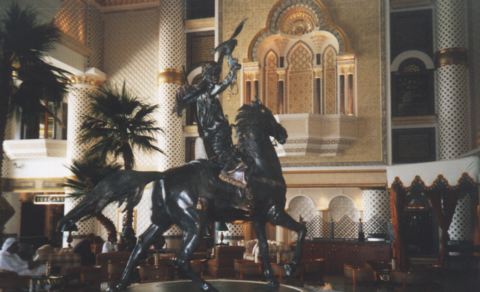 The Lobby: Just to sit here and relax with a Turkish Coffee is en event.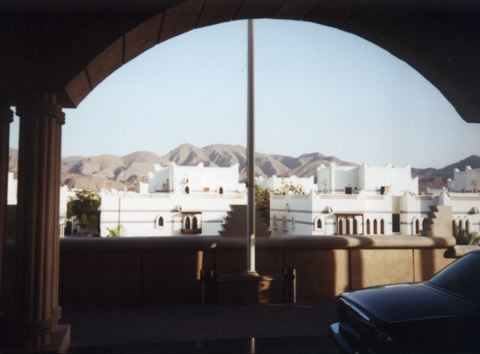 View of the Entrance side of the hotel towards the capital area of Muscat.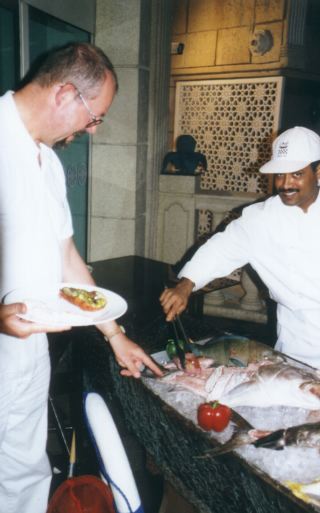 Saturday Night the Hotel uses to offere an "all-you-can-eat" dinner called "Catch of the day". A great event for fish and lobster fans.
---
The beaches in front of the Hotel: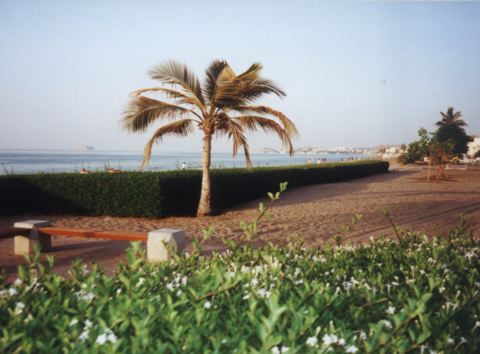 In the back there is a small island with coral reefs - unfortunately we have been too cheeseparing (I looked that word up in a dictionary!!) to do a diving trip there (100 USD) - next time ...


In April with temperatures above 110 F a beach live was only possible after 4 p.m.
Swimming in the ocean is really interesting, fish crowds and turtles accompany you !!
In November temperatures have been more moderate (85 F)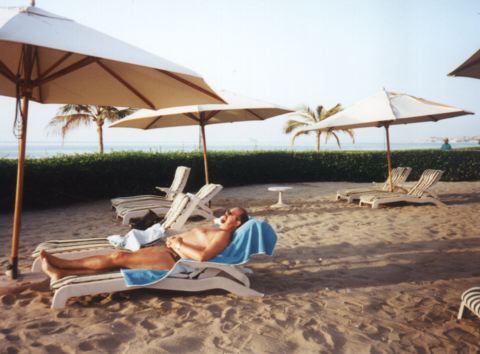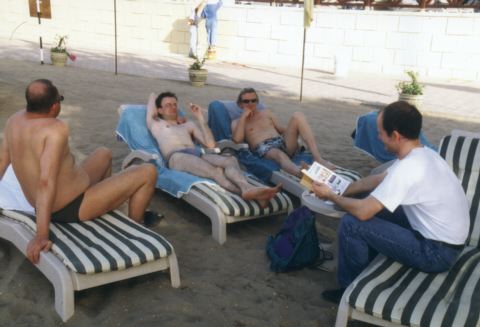 My collegues will kill me for putting this evidence of a real hard business trip into the Internet!!!
---
These are some Links with some more info on Oman:
Oman Infoworld - Main Front Page
Lonely Planet World Guide | Destination Oman | Introduction
Sultanat Oman, Reiseinformationen, Landeskunde,
Oman Info
a&r - Reportagen - Oman / Oman. ReiseBilder
---
Menü (no Java-Script!!): [Hauptseite] [English] [Familie] [Immenstaad] [Reisen(Travel)] [Mountainbike] [Links] [Archiv] [Email]

---
---

Erstellt: 15.07.2001
Copyright ©2001 Bernhard Heinz