Bilder meiner Oman-Reisen in 2001
Teil 4: Impressions from Breaking Fast during Ramadhan
[German Version - please klick]
One of our Oman trips took place during the month of Ramadhan. Normally this is not a period for making vacation in an islamic country. However, we have collected many events and fascinating impressions during that time which I will present in the following fotos.
The entire population of Oman is very religious, in the holy month of Ramadhan during daytime they do not eat or drink, even chewing gum or cigarettes are not allowed. In public this law is also valid for foreigners or "non islamics". We have been more or less forced to also participate in fasting but having meetings for many hours without anything to drink has been hard for us. In the Hotel there has been prepared a special room for foreigners in which it was possible to eat and drink even during daytime. However, there was absolutely no alcohol and the bars were closed permanently (which wasn´t so bad at all!!)
After sunset breaking fast started.
Here are some impressions from breaking fast at the Hyatt Hotel: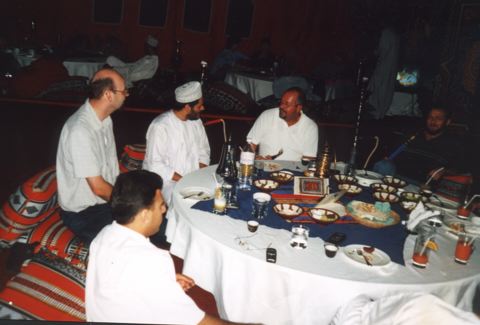 A fascinating oriental atmosphere.

Together with our friends from Oman.

The Arabic live music has been very relaxing.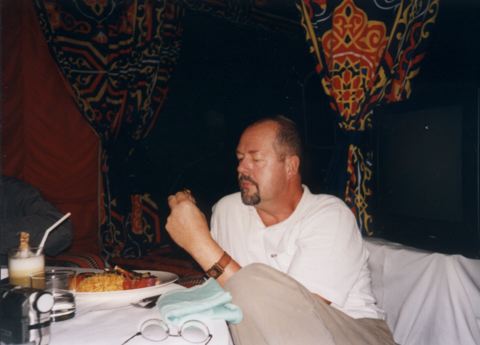 A very positive experience: We more felt like Omanis than as Tourists.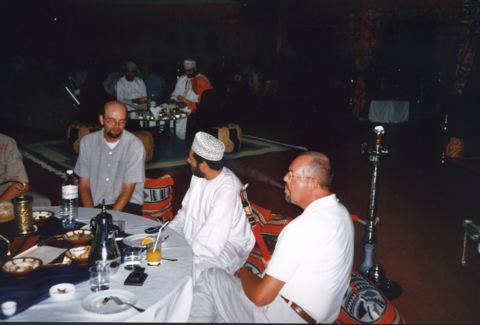 <
---
Menü (no Java-Script!!): [Hauptseite] [English] [Familie] [Immenstaad] [Reisen(Travel)] [Mountainbike] [Links] [Archiv] [Email]

---
---

Copyright ©2001 Bernhard Heinz Immenstaad