Tour 2000 Lugano-La Spezia

Hi MTB Fans.
In this site you can find a couple of nice pictures taken during my MTB trip with Claus-Dieter from 15 thru 18 Aug 2000 from Lake of Lugano (Switzerland) to La Spezia (Italy) - appr. 450 km. If you are interested in a map just click below.
Bernhard und Claus-Dieter
---

We departed in Cima at Lake Luganno, these are the 2 "heroes" Bernie (left) und Claus-Dieter.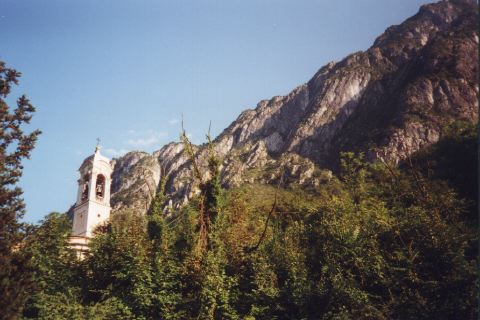 Cima is a lovely village, situated between the lake and high mountains.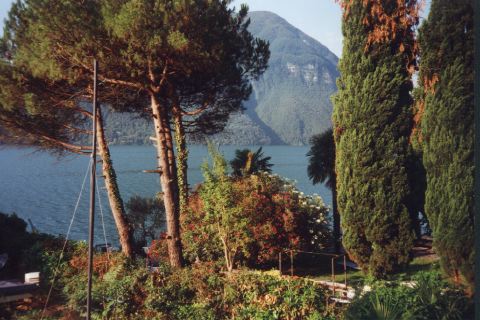 Pretty view on the lake.

Is there anybody not (yet) convinced that this is a pretty area?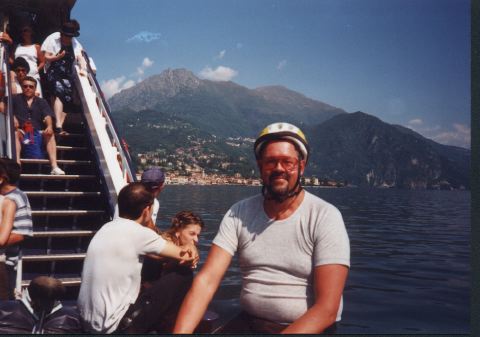 We crossed Lago di Como (whatever that is in English) by ferry from Menaggio to Bellagio.
As you can see even heavy mountainbiking doesn´t really help to get my weight under control!!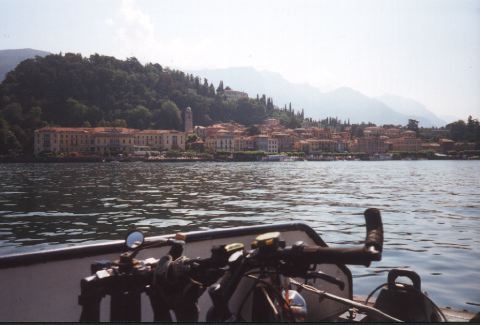 View from the lake in direction of Bellagio, isn´t this pretty?
This replica built by Italians looks almost like the original Bellagio in Las Vegas ??? !!!
(Or was it vice versa ??!!!)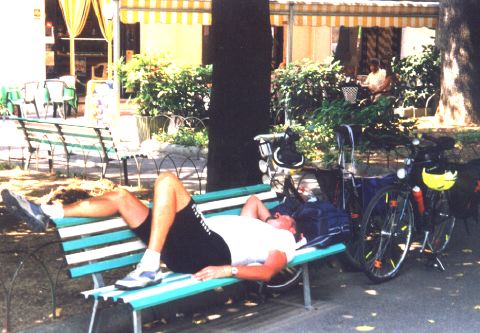 Bernie taking a nap around noon. Incredible that I was able to sleep - a result of heavy biking.


Typical Italian landscape near Borgo.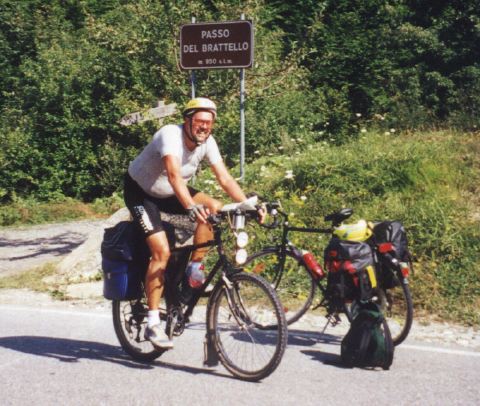 We crossed Mountain Pass "Passo del Bratello" which is just 3000 ft, however with 95 centigrade it has been a bit of a challenge.
Claus-Dieter was waiting for me with his camera ready.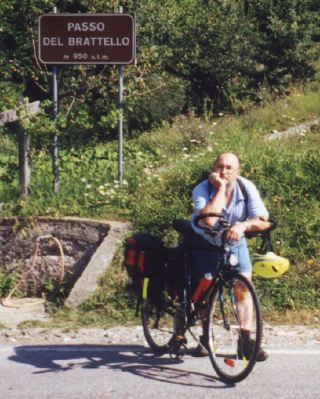 Claus-Dieter seemed to be very relaxed. "Where´s the next pass, let´s move on!!"

Almost at destination, the mediterranean. We arrived in Lerici, in the background the old castle at "Punta di Maralunga".

We continued biking along the shoreline toward west.

We liked this pretty village of San Terenzo so much that we tried to find an accomodation - however without any success. So we continued along the coast.

At the west side of San Terenzo we discovered a beautiful laguna. We stayed a couple of hours and enjoyed the refreshing mediterranean water. Behind the laguna the bikeway ended (rocks, no way to continue), we had to return and go along a main road towards the center of La Spezia.

Finally at our destination: The Harbour Promenade of La Spezia.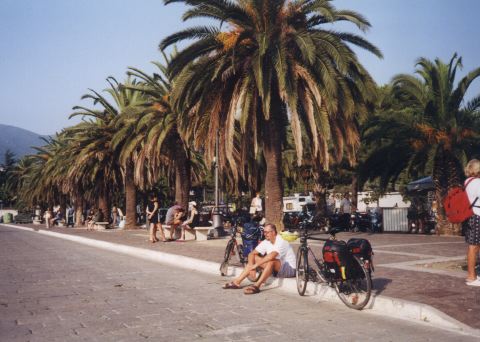 Relaxing and enjoying the pretty view!

Claus-Dieter

Bernhard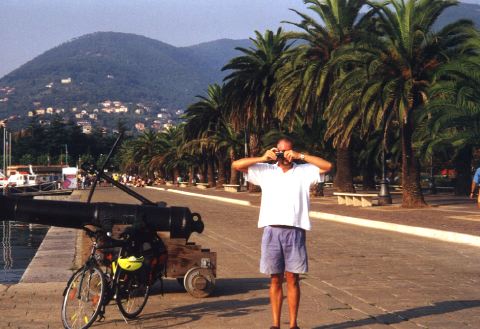 Fotoshooting !!
We finally found a hotel - I had seriously considered to spend the night on the beach, but that wasn´t necessary. After a delicious Italian dinner we spent a couple of hours at the Promenade, a real nice environment with many outdoor bars and restaurants.
Next morning: Preparation for return.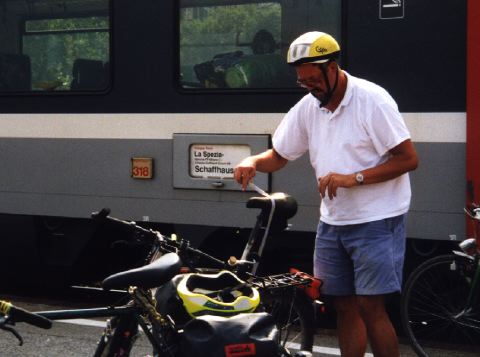 We cheated on the way back and preferred to take a train.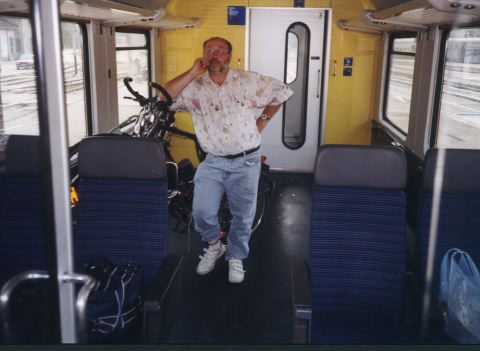 This time the organization was perfect. They had a special wagon for bikes.
---
Ok, that was it. We hope you enjoyed our pictures. If you are interested in getting more info on our trip just send us an Email
Bernhard and Claus-Dieter
---
Menü (no Java-Script!!): [Hauptseite] [English] [Familie] [Immenstaad] [Reisen(Travel)] [Mountainbike] [Links] [Archiv] [Email]

---
---

Copyright ©2000 Bernhard Heinz Immenstaad