Rome
[German Version - please klick]
In April 2001 I made a cultural trip to Rome/Italy. We took the first flight from Zurich with Swissair and arrived at the hotel already at 9 a.m. I booked the hotel in advance by phone, that worked real easily. Even the shuttle bus from the airport to the hotel worked perfectly - a totally new experience in Italy.


Forum Romanum.
By the way: We had our Micro-Scooters with us, a perfect transportation media in big cities. Folded away they can be caried in a regular suitcase. Speeds are somewhat between bicycle and footwalk. However, Micro-Scooters are much more flexible. Just fold them away and you can walk, enter shops etc.


A one day trip along the Via Appia Antica including a visit to the Calistro Catacombs.

Micro-Scooters are not really suitable vehicles on the original Via Appia.
Don´t be shocked, the foto above is not real. Anyway. there are only a few meters of the antique road left in the original state.


Trevi Fountains and the stairway below S. Trinidad dei Monte are a must for visitors of Rome.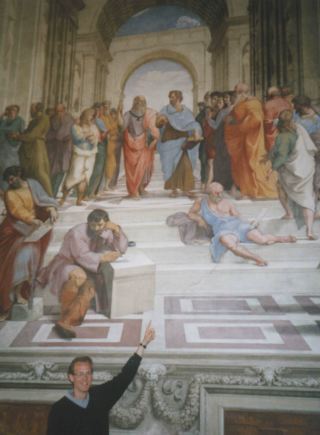 For our young Philosopher Christian Raphaels painting "The school of Athens" showing many of the Greek Philosophists has been a sensation.


I have been a bit disappointed of Palatin, many places I visited before are now closed bcause they are crumbled.

In the famous Antico Caffé Greco.

In the evening at Piazza Campo dei Fiori: Great Roman atmosphere.
With the last flight at 9 p.m. we returned to Zurich. We had 4 great days and saved some travel time and overnight stays because of taking flights.
We enjoyed this trip so much that we think about doing that once again in the near future.
---
Menü (no Java-Script!!): [Hauptseite] [English] [Familie] [Immenstaad] [Reisen(Travel)] [Mountainbike] [Links] [Archiv] [Email]

---
---

Copyright ©2001 Bernhard Heinz Immenstaad