Skiing in Golm 30 Dec 2004
unfortunatelly ending in a Hospital

Dear Skiers and Non-Skiers,

after I survived my various sports activities for almost 54 years without fractures and heavy injuries, it has now been my turn - solely thinking in terms of statistics. Something happened to me I never thought would ever happen: This will impact my life over the next months and maybe even years.

Why don´t you take a look at the hole story below!

Direct links´to recent Updates:
30 Dec 2004: This is how it all started -->click
22 Jan 2005: Seasonal ticket of Montafon in Austria -->click
12 Feb 2005: News of the "mummy" -->click
08 Mar 2005: Now it´s killing my nerves -->click

23 Mar 2005: New Surgery planned in May -->click
17 Apr 2005: Feeing a bit better -->click
03 May 2005: Good news from Augsburg Hospital -->click
14 June 2005: The bones are growing together -->click

Current: 16 July 2005: Final report -->click
---
This is how it all started
Jürgen and myself were having great fun doing skiing, it was almost 3.30 p.m. and close to finishing when it happened to me:

_
_
_
Bad luck: it stroke me at a relatively steep place on an ice plate - everything after then happened in such a way, as I never anticipated: Departure with mountain rescue team in the Akia (rescue slade), transport into the hospital, 4 hrs of surgery. Now have got a large titanium plate with thick screws in the upper arm and a 35cm long seam with 26 metal clips. In addition some nerves were also damaged - this is even worse than the fracture. The whole thing is called: Humerus Shaft bone fracture with Paralysis Radialis.
After 5 days I escaped from hospital and gratefully accept the help of "Nurse Ulrike"

I got plenty of time now and sure enjoy every visit or Email.
22 Jan 2005: Seasonal ticket of the Montafon Skiing Area (Austria)
Jürgen and myself had a ticket for skiing during the entire skiing season - just to avoid queues for getting a daily ticket and to have some additional motivation for going skiing. I got a refund of this investment - unbelievable in todays world !

12 Feb 2005: News from the "Mummy"
Today I´m in a good mood, therefore here´s another status report: Even after 6 weeks I still have to wear the cast. The damages to the nerve running close to the broken bone seem to be worse than expected. Well, right hand and brain are still operational!
Now you know why I have to cover up my left hand!!

The real story - this is my left hand:

Looks almost like a German suasage, swollen and very painful. All this is caused by the injured nerve in the upper arm - hard to believe. If the cast is removed, my hand makes only one movement: along the force of gravity downward!!! Since approx. 1 week I am getting some pills which help much better than the ones I had before. Positive trend ...!!!

My Mercedes has been modified with some high tech cableless device enabling me to operate it with one arm. Life is much easier now when I am mobile again. I am also back to work part time.

I modified the keyboard of my Mac to avoid hidding 10 keys at once with the cast. Works great but in Emails I avoid using capital letters - every motion of the left arm is painful.

Has anyone ever successfully logged into a PC with the famous 3-finger grip "Ctrl-Alt-Del" with only one hand ??? God I am so happy that I still have my Mac.

---
8 Mar 2005: Now it´s killing my nerves
How is Bernie doing these days? I can summarize that briefly: Deep sh....! The current radiograph does not show any growth of the fractured bone (medical: Callus) and the nerve does not show any reaction. In addition I am still running around like a mummy.
My medical doctors tell me to be patient. At the end of March they plan additional medical analysis in the hospital of Augsburg which is specilized on this nerve stuff.

Nevertheless I am still having lots of fun with my friends which helps me to get over this situation. Below you see an example. Since I am not able to go to the snow lots of snow is coming to me! We have never had that much snow for more than 10 years. Last weekend they organized a great apres ski party in the middle of the city of Friedrichshafen even with deck chairs and DJ and/or live-musik. Here impressions of it:

_
---
23 Mar 2005: New Surgery planned in May

I know, my story is getting boring. Don´t worry, summer season with its upcoming events is on the way and I will be happy to report about this and not about the stupid arm.

This is the result of the medical investigation in Augsburg Hospital on 21 Mar: If no miracle happens, they will do another surgery on 3 May - trying to fix the nerve and the bone. The positive issue: The nerve surgery will increse the chances that I will be able to move the hand again from 60 to 95 % - isn´t that great?

You may not believe this: I am looking forward to the surgery, since I have got pain in the hand again for 1 week and I will be glad, if something happens to improve my situation.

---
17 Apr 2005: Feeling a bit better
Again almost 4 weeks passed just like nothing - but my situation is sligfhtly improving. I am fully back to work since 1 April and I got me the new skiing ticket for the 2006 season already. Just look at the quick reaction of Austrias Minister of Health: Analogous to the smoking warnings on cigarette packs they have now issued a skiing warnings for skiing tickets.

"Skiing is dangerous for your health ..... Your medical doctor can help you if you would like to quit skiing ...."
Great achievement. I may have to start collecting stamps now - however, I would have to start smoking if I did something boring like that.

I also quit running around like a mummy and got this nice plastic cast.
Nerves and bones are still refusing to grow. There is no need to place an updated x-ray here because there is absolutely no change since 30 Dec.
However, since 8 Apr I am able to move the hand about half an inch - not much but better than zero. Optimism is spreading.

Thanks to ebay, I got myself a home trainer for 9 USD and I am now doing indoor virtual mountainbike trips in order to be fit when the skiing season starts - only 6 more months to go.

This would be my favorite project on 3 May, my scheduled day for surgery:

Cross your fingers that the result of initial analysis in the hospital will show that an additional surgery is not required. In that case I would reactivate the same project as I did after my last visit to Augsburg Hospital: Having a delicious bavarian duck on my plate at lake Ammersee. By the way, look at the poor duck in the water - it just discovered that its brother didn´t make it.

---
3 May 2005: Top (good) News from Augsburg Hospital

Result of the initial analysis: I do not need surgery at present. The nerves are growing - and the bone problem can wait. For transplants of the nerve there is a window of 4 months - I just made it! The bone may be fixed much later if it still refuses to grow. I need to continue my training program and it still may take over a year to fully recover. Meanwhile I am able to move the hand about 1,5 ".

After these extremely good news I returned home as fast as I could to have a party. The Ammersee duck is probably just as happy as I am.


By chance I discovered this photo in my newspaper - once I am able to do that with my left arm I`ll be through!!

---
14 June 2005: The bones are starting to grow together .....

Good news - at lest partly: The bones are starting to grow together, however the nerves have still not fully recovered. I am now able to move the hand to appr. 70%, the fingers are still stiff.
May next date in Augsburg Hospital is mid July now.

The right picture is an interesting view of human nerves - you can now imagine what a heavy damage can do to this complicated structure and that it takes a lot of time to recover.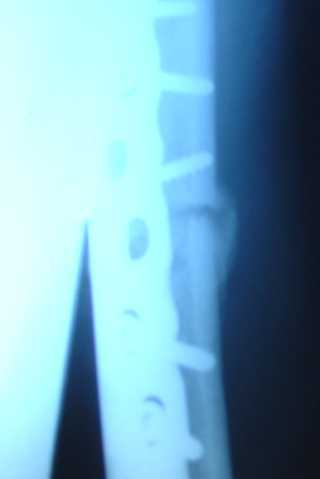 _
---
16 July 2005: Final Report

I made it: The new analysis indicated that another surgery is not required. The nerves are going to recover, a lengthy process of another 6 months! But the pictures below show the great process of my bones,


_


I am sick and tired of this subject, therefore I will finish this story now. Next time I will mention this subject will be when I am back in the mountains for - believe it or not - SKIING !!


Greetings from Germany

Happy Bernie



---
Menü (no Java-Script!!): [Hauptseite] [English] [Familie] [Immenstaad] [Reisen(Travel)] [Ski] [Mountainbike] [Links] [Archiv] [Email]

---
---

Copyright ©2005 Bernhard Heinz Immenstaad